OK folks I need to off load a ton of parts. Less stuff I have to move the better so let me know if you needs something that is listed below.
I am PayPal Verified but would accept other forms of payment. Please contact me before purchase to get a shipping quote. Prices do NOT include shipping.
$200 Authentic HKS Super Sequential Blow-off Valve - NOT A KNOCK OFF! Does has a minor cosmetic scuff on housing.
$25 OEM Honda B Series Oil Pickup
$75 Sierra Fox Racing Custom Turbo Flange. Easily mount your DSM Turbo to any T25 flanged turbo manifold. I had this custom milled from my own design using CAD. Use cap bolts to mount everything flush and perfectly.
$125 Volvo Turbo with Lines - OIl and Coolant Operation - Spins freely, NO PLAY AT ALL! Appears to be a little bigger than a TD04.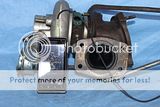 $40 OEM Honda Headgasket 81mm, barely used maybe 200 miles. (Disregard sticker in photo, just used to store the headgasket)
$25 : Oil Cooler from a Mitsubishi Eclipse 4G63, I also have the pressure lines.
$100 : B16A2 Camshafts with Cam Gears
$ OBO : Various Honda Civic Engine and Transaxle Mounts. Mix of D, B, Auto and Manual Mounts. Check your application first. I dont remember which is which.
$5 each or $22 complete set. B series crank caps
$10 B Series Crank Gears OBD0
$15 B Series Rear Main Seal Covers. Seals may still be good if you want to reuse. Didn't leak before disassembly.
$25 each, OEM Honda Crankshafts B16A - spun bearings, can be turned. Utilize oversized bearings.
$25 OEM Dodge Neon SRT-4 Stage 1 MOPAR Wastegate Actuator
$30 OEM Honda B20 Crankshaft Pulley
$25 OEM Mitsubishi 4G63 Intake Manifold - started to port it, never finished.
$10 Honda B Series Head shield
$50 T25 DSM Turbo Parts
not pictured is the core, turbine, etc. I have just about all the the parts. I will include all parts I still have with this.
%25 DSM 02 Housing with 02 sensor (don't know if sensor is good)
$25 4G63 Cam Position Sensor (worked before removed, parted out the engine)
$15 each OEM Honda B Series Block Splash shields