In June of 2009 I picked up this as a project. It was already setup really well, but a lot of things I want to change, or need to be upgraded. I'll update as I go along, with parts as I receive and install, pictures of installs, pictures from track events and meets, & reviews of parts installed. Here is the mod list, updated as it goes. Updates may be slow when I am in and out of the field and the middle-east.
Exterior
.Sti v6 front bumper
.Sti v6 Aluminum hood
.V7 GDB oem 3 piece front lip
.JDM GC8 version 5 rear bumper
.JDM GC8 Version 6 front grill with pink I badge
.00 RS headlamps
.door skins shaved to JDM look
.WRC carbon fiber mirrors (authentic off actual WRC car)
.Charge Speed version5 type2 front lip
**Not installed yet**
.Charge Speed version2 side skirts
**Not installed yet**
.Charge Speed rear lip
**Not installed yet**
.5000k Bi-Xenon HIDs
Interior
.Greddy electronic boost guage
.STi-RA DCCD guage cluster, fully functional with USDM MPH readout swap
.FULL JDM RHD conversion
.JDM STi-RA version 3 manual window GLASS, panel, and manual window mechanism conversion.
.STi version 4 Seats - front and rear.
.Random hub from JDM land
.Mooneyes sparkle red wheel
.STi-RA analog HVAC and climate control
.NRG Quick-Release Slim
.Nardi 330mm Deep Corn Wheel (black suede w/ red stich)
Suspension&Drivetrain
.Cusco trailing arms
.Cusco front STB
.Cusco 22mm front sway bar
.Cusco 21-23 mm rear sway bar with Whiteline endlinks
.Cusco Front H brace (powercoated black)
.Cusco Spin Turn Knob
.Cusco JDM RHD Master cylinder brace - works awesome
.17x8 Enkei RPF1
.245/45/17 Pontenza re070s
.McGaurd spline drive lugs
.Whitline sway bar brackets
.Square aluminum profile rear STB
.Zeal coilovers
.Brembo GDB v8 OEM brakes all around
.Hawk HPS+ pads front and rear
.STi OEM brake rotors
.Goodridge SS brakelines
.STi GC8 front forged control arms,
.GDB v8 JDM hubs X 4 corners
.Powerflex bushings
.STi-RA quick steering rack
.STi-RA version 2 DCCD 5mt
.R180 STi GDB ver8 JDM 1.5 way mechanical LSD
.R180 STi rear axels
.Exedy 13lb chromoly flywheel
.STi aftermarket full organic clutch set
.STi short shift kit
.JDM k member
.JDM GC8 front X member
.98 Legacy rear X member
Engine
.EJ20G
.STi Type-RA intake mainfold
.TD05-16G
.V2 STi ecu 6K
.Custom intake with APEXi MAF adaptor and filter
.Custom FMIC
.Converted to GDB ignition coils
.Element Tuning Hydra EMS 2.6
.Cusco exhaust hangers
.GrimmSpeed Air/Oil Separator
.NGK BKR6EIX Plugs
.GrimmSpeed 160* failsafe thermostat
**Not installed yet**
.GrimmSpeed Boost Control Solenoid
.Sard 800cc injectors
**Not installed yet**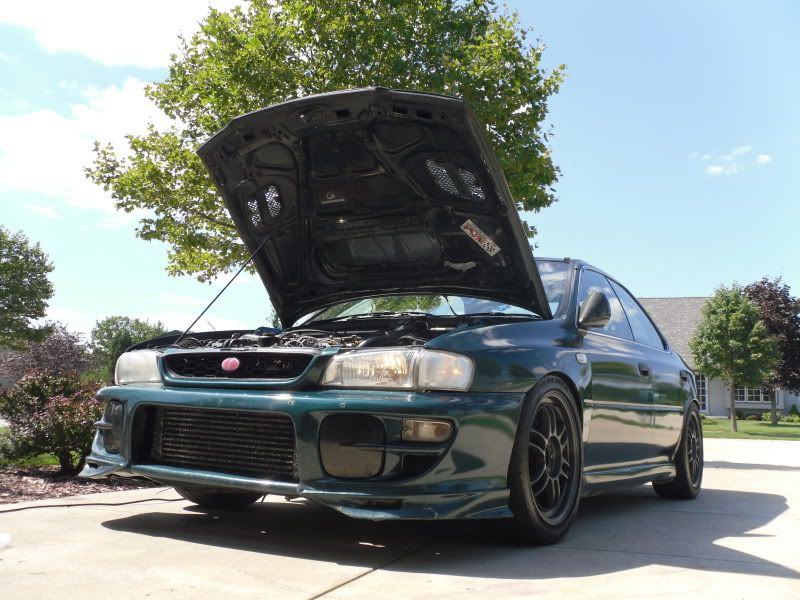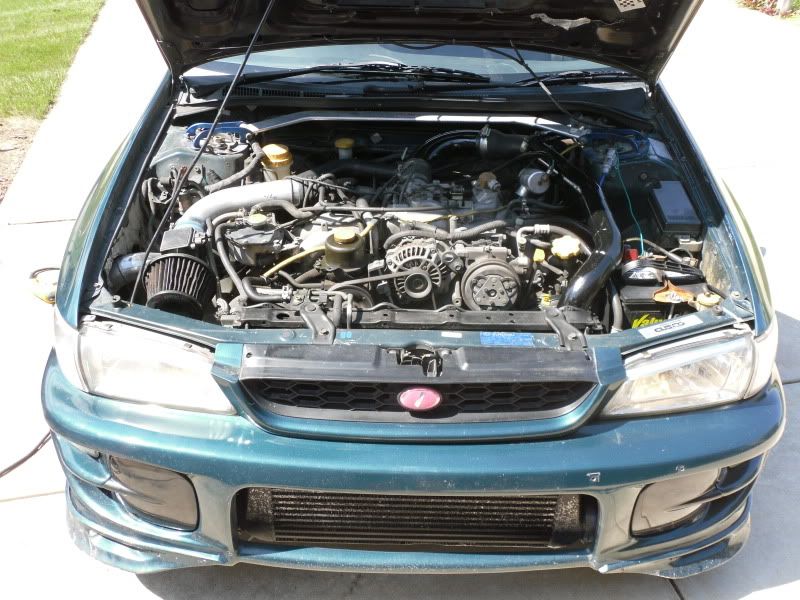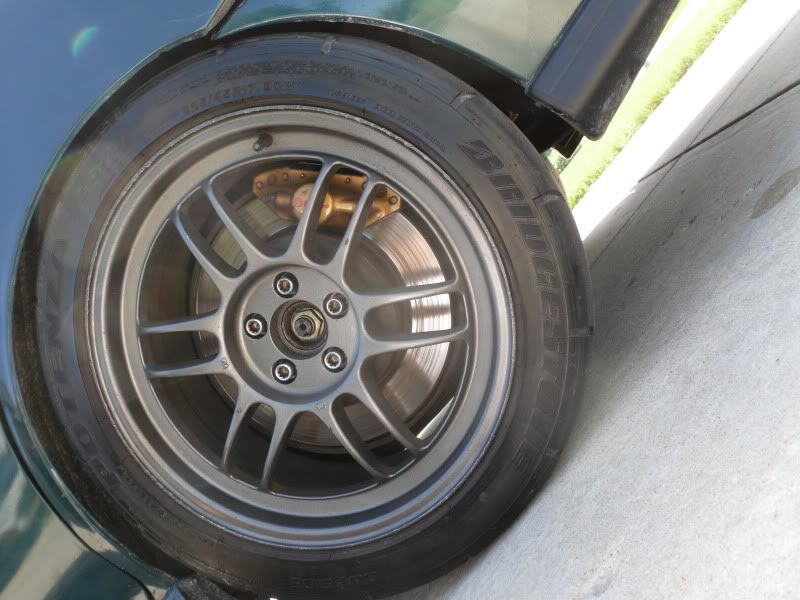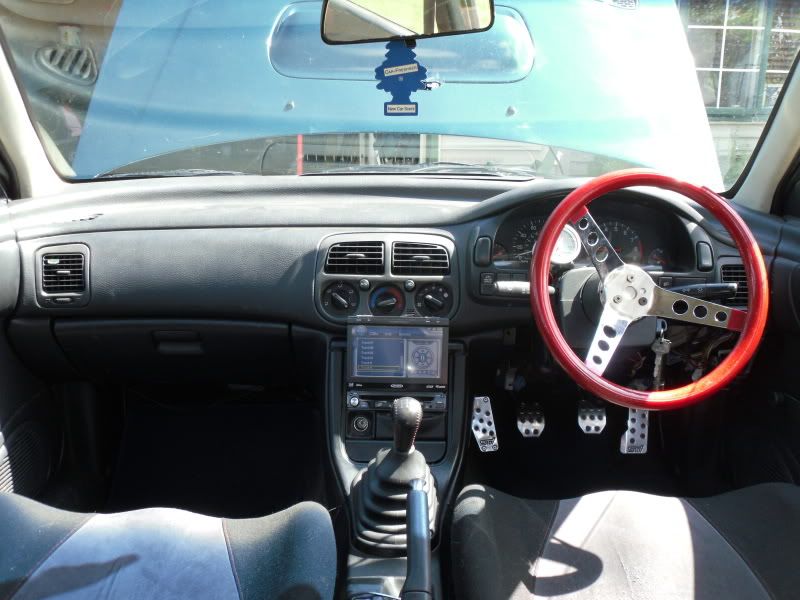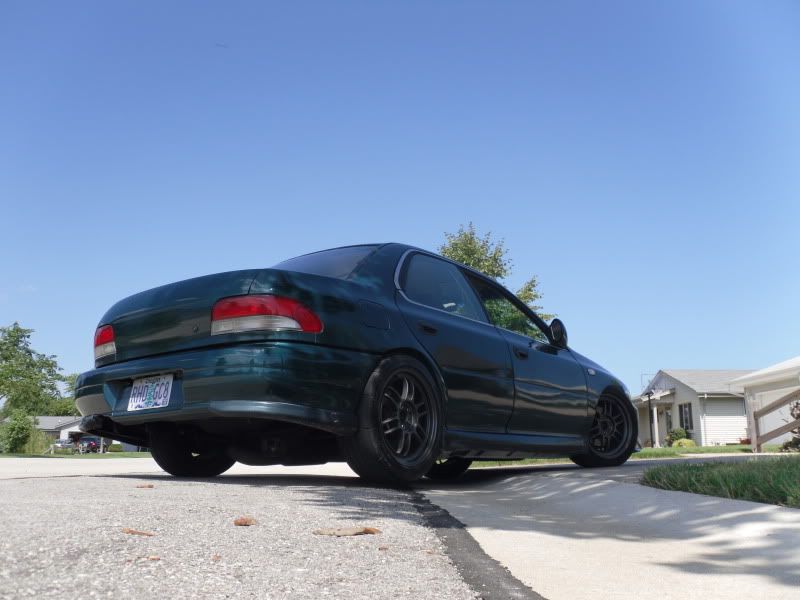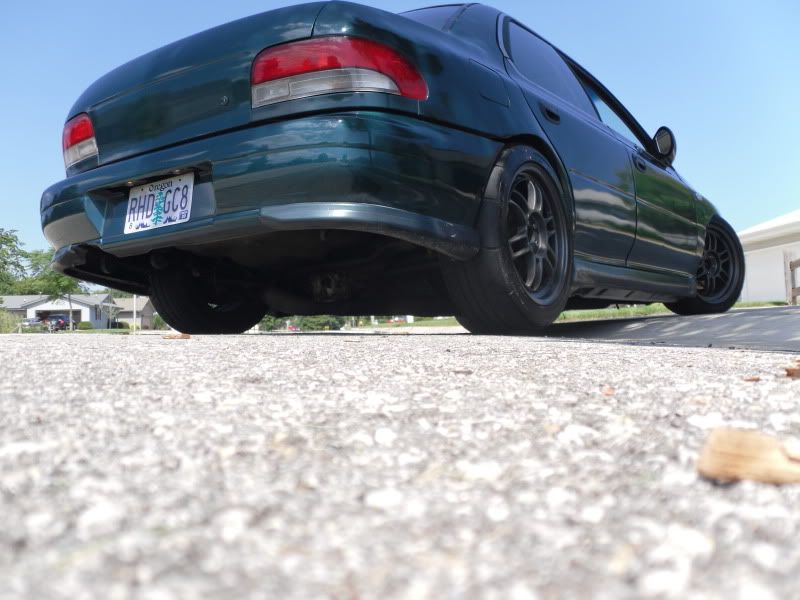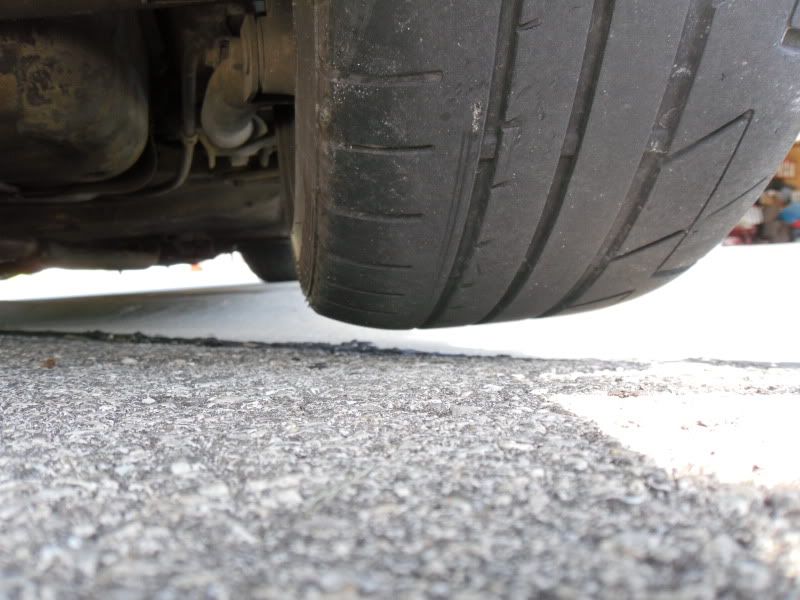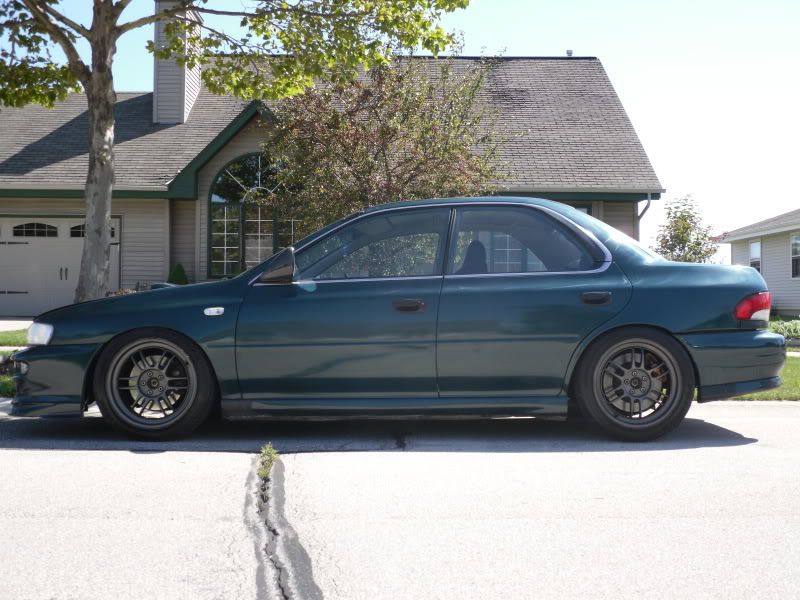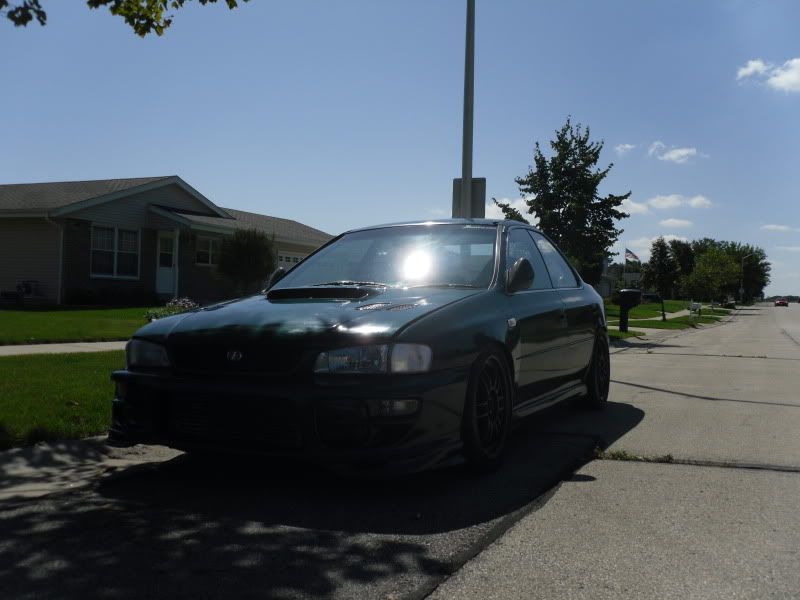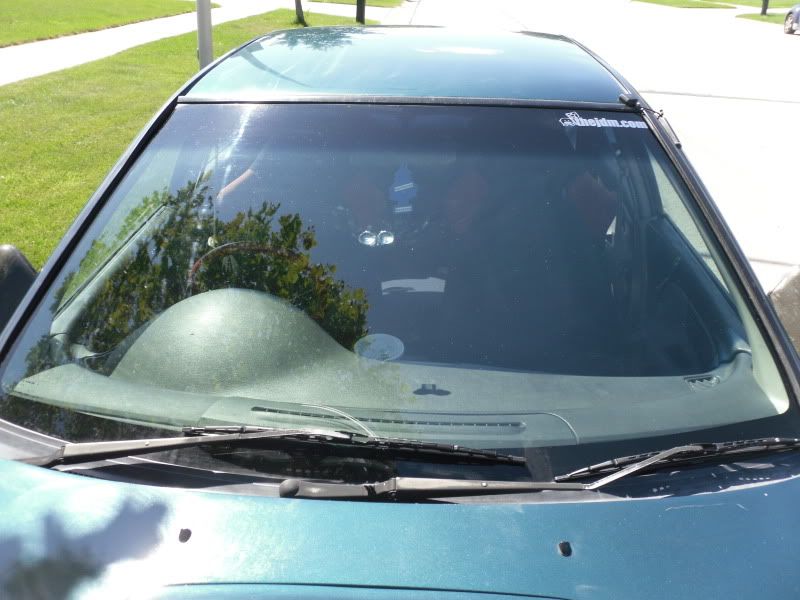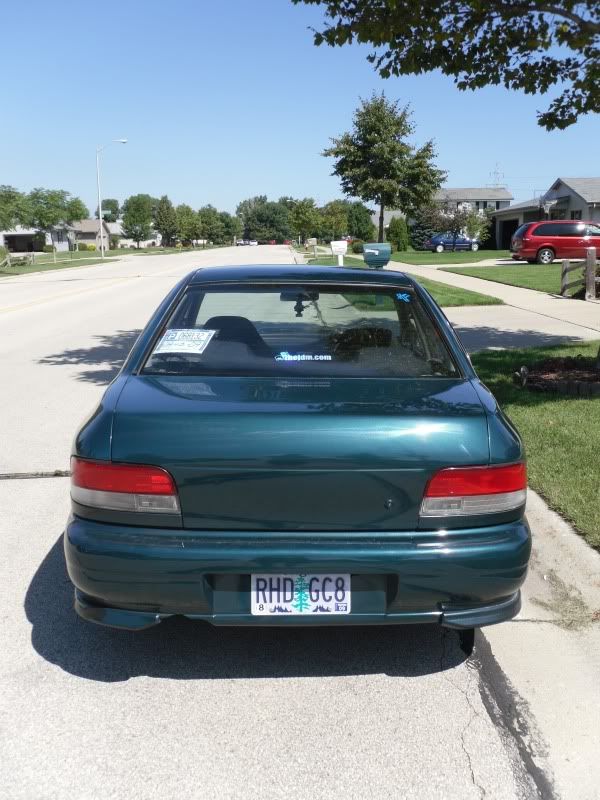 Track Events:
July 10th, 2010 -
Arroyo Seco Raceway
- Time Attack